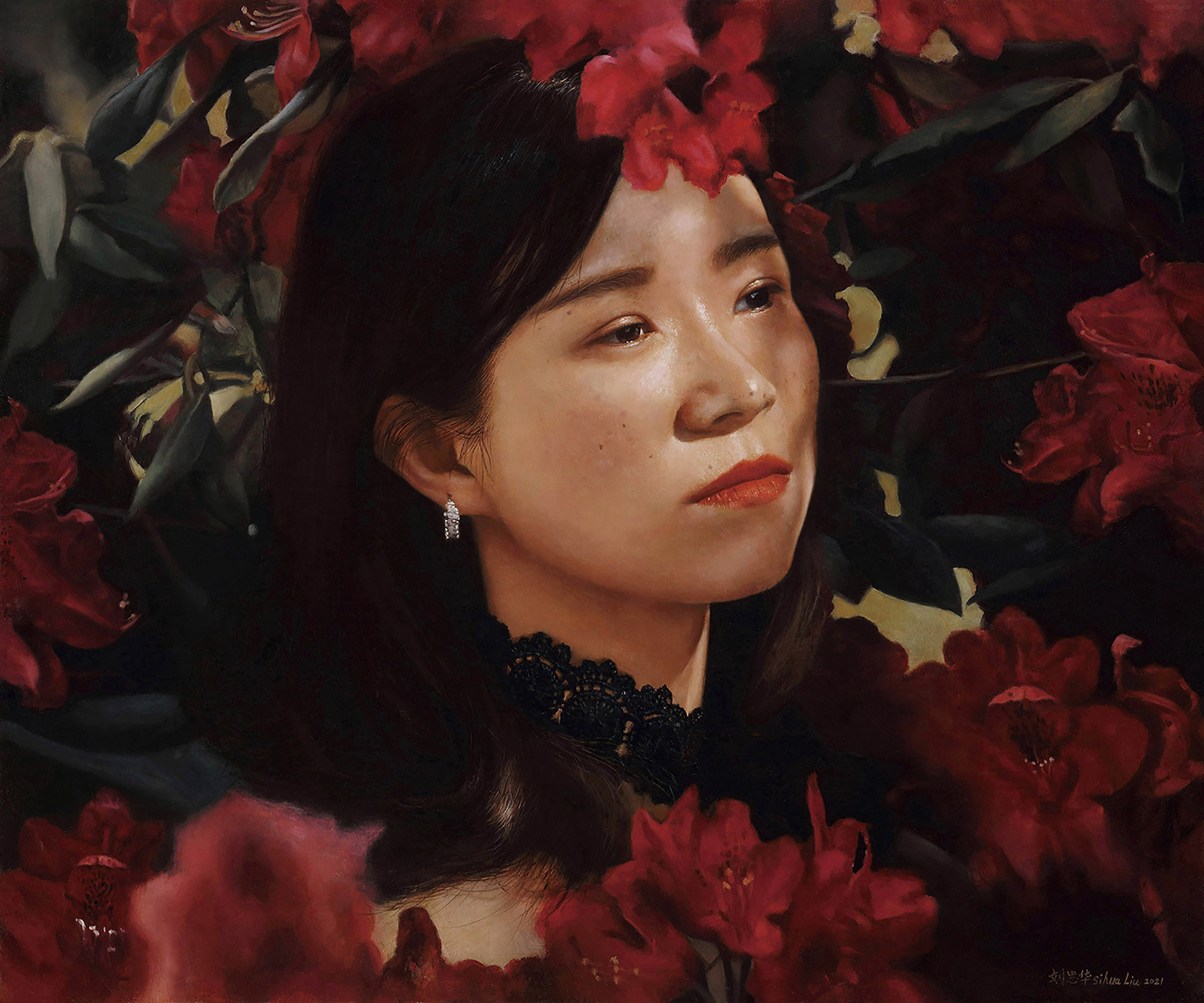 Meet artist SIHUA LIU
Galia Veleva: Interview with third place prize winner Sihua Liu
Q: Please, tell us a bit about your past. When and where were you born? Where did you grow up? And where do you live now? What was your childhood like? What have you done for a living?…
I was born in a small town called Hanshou County in Changde City (Hunan Province, China). It's a beautiful scenic place and I fondly remember my childhood there. Then I pursued my studies at university and got my MFA. After graduation I went back to my hometown as an art teacher, and that's what I'm doing until today.

Q: Who was the first person, who understood you were an artist and/or supported your talent?
When I was a child, my sister liked painting. I think I was influenced by her. At that time I was caught by painting. My parents also supported us. I still remember in the fourth grade of primary school, when I was at my aunt's house, my mother called me back home to study art. At that time, I was starting to study art systematically.
Q: At what age did you start painting?
I started painting when I was about seven or eight years old, and began to receive regular training when I was nine years old. My mother discovered that I was obsessed with drawing and supported my talent.

Q: How did you become an artist? Tell us your short personal story.
I decided to become an artist as soon as I graduated from university – I considered painting as a part of my life. While I paint I feel delighted.

Q: If you could go back in time to what were the happiest times of your childhood, where would you go and why?
I would go back to my primary school years. I was staying with my uncle's family, who were very nice and easygoing. My uncle often took me to play in the fields and also cooked delicious food for my sister and me. Unfortunately he died. I still miss him very much, so I would love to go back and see him again.

Q: What fascinates you in contemporary figurative art?
I like the painting language of figurative art – it fits my personality. I like rich and colorful styles.

Q: What themes touch you the most? Do you have a favorite theme represented in your art? Or any future plans to work with a particular theme?
I like the art of the Pre-Raphaelite and the Art Nouveau Movement very much. In the future I will continue to paint artworks in this style.
Q: Do you have a morning ritual or a ritual before you start creating? Please tell us about it.
I will pray to calm my mind before painting, that way I can isolate myself from the outside world. We live in an era of information explosion, everyday we are bombarded by information from all directions. This is a challenge for me, so the morning ritual is necessary I think.

Q: What does it mean to you to be an artist?
It means that I have realized my dream, and it means a free way of life. My own studio is a refuge far away from reality.
Q: How would your friends describe you in 3 words?
Quiet, not sociable, stay at home rather than go out.

Q: If you could have 3 virtual imaginary friends (famous or not, still alive or lived in the past …) in your life who have inspired you, who would/might they be? And why?
If I was asked to choose three virtual friends, I would choose painters, musicians and poets, including John Singer Sargent, F.F.Chopin and William Butler Yeats, because I respect their pursuit of art.
Q: If your hands and brushes were the tools to give your generation a voice, what story would you like to tell in your future works?
Through my artworks future generations can discover that life is full of beauty and happiness. I hope art can bring comfort to the soul in a world in which we face so many difficulties.

Q: What makes your heart pound faster (in terms of art)?
Music and literature, I think they can enter the deep soul.

Q: Which life lesson(s) has/have made you the person and artist you are today?
I don't think there are any specific life lesson(s). It was a natural process for me to become an artist. Actually no one asks you to be someone, just like the seed sprouts, it will grow naturally.

Q: Which painting/work from an artist would you like to have in your living room one day? Please tell us why.
If I had the chance to own "Rembrandt's Mother Reading", it would be my great honor. It just reminds me of my mother because of the kindness in Rembrandt's painting.

Q: What are you most grateful for in your life so far?
I am most grateful to my parents. I still remember when I prepared for the college art entrance exam, my mother always accompanied me, so that she could take care of my daily life. You know that the competition in the Chinese art exam is very fierce, and you have to make great efforts to pass the exam. Similarly, in my primary school, my father sold a lot of materials and plaster bodies to support my artistic education. I am grateful to them. Without their efforts I couldn't have done it. No matter how difficult the future is, I will never give up
Q: What is your ikigai?
('ikigai' is a Japanese concept that means your 'reason for being'. 'Iki' in Japanese means 'life,' and 'gai' describes value or worth. Your ikigai is your life purpose or your bliss. It's what brings you joy and inspires you to get out of bed every day. In French they refer to ikigai as to 'la raison d'etre').
I suppose for me it is being able to paint every day. When I hold the brush, I discover the meaning of life. Life is very short, but I aspire to do what I like in this limited time. When I make some progress in art, I feel that my life is full of hope.


Q: Just out of curiosity: where is your work "Flowery" situated at this moment? What can you tell us about the character?
"Flowery" is in my studio now. The character is my friend. She works in the electric power bureau. In her spare time she likes photography and of course she also likes being photographed by others. She's into classicism and French art. I find her to be very inspiring. You know, a muse is really important sometimes.

Q: What makes your eyes sparkle?
When my artworks gets recognized and wins an award makes! That feeling is so awesome.

Q: Do you find it important to participate in art awards? Why? What has participating in art competitions brought to your career?
I think participating in art award competitions can broaden your horizon. It shows you the overall level of contemporary international artists, and that allows you to measure your own work against this. Participating in art awards makes me more confident and motivates me to create artworks of greater quality.

Q: If you could use 3 words to describe FiKVA, what might they be?
Well organized, providing artists with many opportunities, a great platform for showing amazing artworks.
Q: Bonus question & answer for the FiKVA team: what would you like to ask the FiKVA team? We will make sure our answer(s) find you.
I would like to know if there will be any artist workshops or artist residences in the future. When the epidemic is completely under control I would like to meet you guys and talk about art.

A: It would be so lovely to meet you in person one day Sihua Liu! Thank you for opening the door of your studio to us and telling us about your inspiration!
The first coming painting workshop is with Spanish master Jaime Valero in August 22-25, 2023 in Ghent Belgium. Here is a handy link to it.
You are most welcome at our activities!
Warm regards: The FiKVA team